Marc Latham's (which might be a J.K. Rowling pseudonym?) 242 Mirror Poems and Reflections, which combines self-analysis, social criticism and nature appreciation is now available on lots more Ereaders via Smashwords after passing review for the Premium catalogue. 40% of the book (twice as much as average) is available to browse for free.
1. Premium Catalog (Reaches Major Retailers): Once your book is accepted into the Premium Catalog, we automatically distribute it to major online retailers such as Apple (distribution to iBookstores in 51 countries), Barnes & Noble (US and UK), Sony, Kobo, WH Smith in the UK and FNAC (both powered by Kobo), Livraria Cultura in Brazil (powered by Kobo), the Diesel eBook Store,  eBooks Eros (operated by Diesel), Baker & Taylor (Blio and the Axis360 library service), Page Foundry (operates retail sites Inktera.com and Versent.com; operates Android ebook store apps for Cricket Wireless and Asus), and other distribution outlets coming soon.  These retailers require certain mechanical standards, such as a quality book cover image, a proper copyright notice at the top of your book, and other simple requirements outlined below. If you're a serious author or publisher, you want your books included in Smashwords Premium Catalog. Both Apple and Sony require you have an ISBN, which you can obtain or assign in the Smashwords Dashboard's ISBN Manager. For additional special requirements of the Apple catalog, see this checklist, How to Publish Ebooks on the iPad with Smashwords. Visit your Dashboard's Channel Manager to control which retailers we distribute your book to.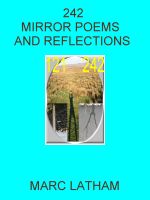 It is also still available on Amazon for paperback and kindle.