wr
I
us
Connecting writer and genius words greenYgrey-style by the i, represented by i-first-letter indigo (a type of purple), and relevant for the PinkyOrangePurple new POP art age, with the wr first two letters of writer pretty in pink, and the us last two letters of genius represented in orange. For correct POPistry the I would be orange, and the us purple/indigo, but for this new wrIus word the colouring of the i in indigo took precedence.
I just searched it, and it didn't bring up such a word, so I hereby wryly Wil. E (Coyote) claim it as mine; writer I hoping for your (us) support!
It's the first word of my wriarTistry phase, or second if you count wriarTistry itself, which connected write and artistry by the T, as slant rhyme works in poetry: 'Half rhyme is one of the major poetic devices. It is also called an "imperfect rhyme," "slant rhyme," "near rhyme," or "oblique rhyme." '
Love Paris Style
In the greenYgrey years I would have this morning no doubt written how much I loved Paris's AAWsome Versace greenYgrey look at the Oscars…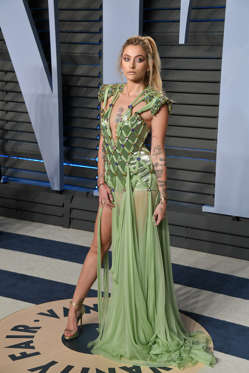 … for her WOW beauty not her father's controversy, but now it's all about I.
Which Beach Boy Am I? Changed Over Time
My greenYgrey books are a record of when I was warm and wolflike: like Denis Wilson of the Beach Boys. I watched a Classic Albums documentary about the Beach Boys' Pet Sounds album last night, and related to how Brian Wilson left touring to focus on being an 'artist', experimenting and breaking new ground.
However, although it's considered a classic now it didn't do as commercially well as their previous simpler albums. I like to think that's how it is with my XaW Files: Beyond Humanity, and one day it'll be recognised as the classic it should be.
For example, it's the only book I know that has a protagonist that is at one stage dissected to the constituent parts of one letter: the Y three.
In my younger life, and the start of the greenYgrey I was probably more like Denis Wilson, who was the only real surfer beach boy of the group, and lived that lifestyle to the full, before drowning after totally going off the rails.
In last night's documentary he was shown appreciating what Brian had done on Pet Sounds, and how it had made him 'know' what Brian had been trying to do in the previous ten records. The record and top three books on Amazon about it have a nice greenYgrey design thing going too!
I was like Denis with Brian when I was a rock fan, looking up to the lyrics and music of my heroes, appreciating their deep gravitas. Hopefully I've now emulated them and become like Brian; who wrote most of the music, and gave it its artistic direction. Tony Asher combined with him on the lyric writing, and of course lots of the other studio workers, band and session musicians contributed their ideas and music.